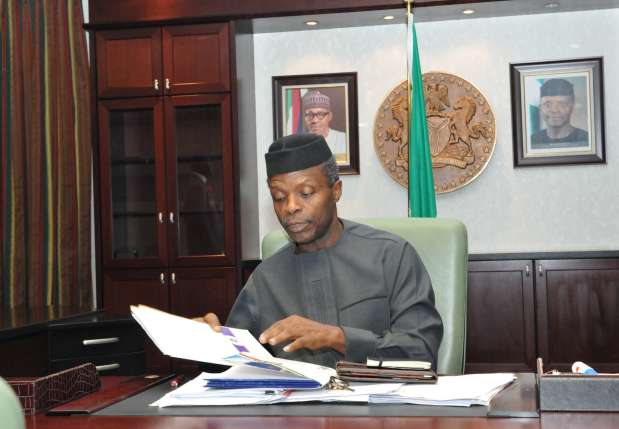 Acting President, Prof Yemi Osibanjo, on Tuesday in Owerri, the Imo State capital admitted that the state has been largely marginalized as an oil-producing state, promising to make amends.
Osibanjo made the statement at the Imo State Council of Traditional Rulers Secretariat presided over by Eze Samuel Ohiri,
Osibanjo while addressing traditional rulers and the political class, said the state has been marginalised by the federal government.
He explained that his visit was in continuation of consultations with oil-producing states, saying, "I can say that the oil producing communities of Imo have been largely ignored".
Osinbajo, however, assured that the federal government will seek ways to make amends by giving more attention to the state.
Reacting to allegations of unfair appointment and allocation of projects raised by Gov Rochas Okorocha of the state, Osibanjo said
it is wrong to assume that President Muhammed Buhari is unfair to Imo people.
"You said that the highest appointment given to Imo under President Buhari was Minister of State Education, I will like to equally inform you that Katsina, the home state of Mr President and Kaduna State where Buhari resides all have Ministers of States", he explained.
According to him, Gov Rochas Okorocha has the listening ears of President Buhari and therefore it is not correct for the governor to say that the state is marginalised by APC led-federal Government", Osibanjo said.
Gov Okorocha had in his remarks earlier welcomed President Osibanjo to the state and bemoaned what he termed unfair treatment to the state in terms of appointments and project allocation by President Buhari's administration.
Okorocha had said: "If you take better look of the situation of Imo not appointment and allocation of infrastructures can Imo people boast of being better treated by the federal government".
He argued that as the only South East State controlled by APC, the state had little or nothing to show for its feat as the only state that brought victory to the party in the 2015 General Elections.